About George Fishman 

George Fishman received a fine arts degree from the University of Pennsylvania and teaching certification from Colorado State University in 1976. He has designed and created commissioned mosaic artworks for 25 years, 

(See George Fishman Mosaics.)

while also writing, editing and presenting at conferences and serving on arts boards.

In 2009 he began recording interviews with arts professionals, collecting them on the Mosaic of Art web site, and linking the edited audio to QR codes for galleries and other arts institutions.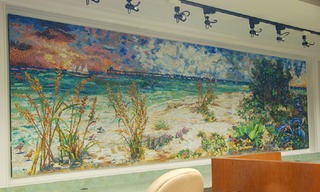 George Fishman, Reflections of Fort Walton Beach, Florida